Author's New Book Receives A Warm Literary Welcome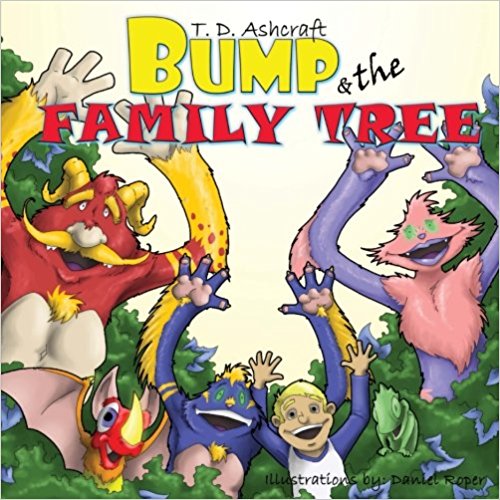 Readers' Favorite announces the review of the Children – Picture Book book "Bump and the Family Tree" by T. D. Ashcraft, currently available at http://www.amazon.com/gp/product/0997042087.
Readers' Favorite is one of the largest book review and award contest sites on the Internet. They have earned the respect of renowned publishers like Random House, Simon & Schuster, and Harper Collins, and have received the "Best Websites for Authors" and "Honoring Excellence" awards from the Association of Independent Authors. They are also fully accredited by the BBB (A+ rating), which is a rarity among Book Review and Book Award Contest companies.
"Reviewed By Sarah Stuart for Readers' Favorite
Bump and the Family Tree by T.D. Ashcraft is intriguingly clever. It is a picture book likely to appeal to children who are invariably attracted by lots of colour. There is also a great deal going on in most of the illustrations, which would keep them listening to the rhyming verses of the story. But that is not all! Most children's books, if they feature families, tend to be Mom, Dad, and siblings, and possibly grandparents. This one caters for almost every variation you can think of, and several I confess hadn't crossed my mind, and in these days when divorce and dysfunctional families have become the new "normal," children from any background will find a "monster" in their situation. Are they friendly monsters? That would be telling.
"Some monsters live with just their mom, some just with their dad. And that's just the way their family is. No reason to be sad." Those four lines have been placed beside an illustration of some happy, laughing monsters of various sizes. "Other monsters have two daddies or one father and two mothers" is an even better example of a mixed-up family that Bump and his friends regard as normal. Adoption is tackled, and many other situations, and the essential truth is crystal clear. If you have friends, you are loved, worthwhile, and happy. Bump and the Family Tree is great fun to read, beautifully illustrated, and T.D. Ashcraft has presented this story in rhyme and kept a very important message subtle."
You can learn more about T. D. Ashcraft and "Bump and the Family Tree" at https://readersfavorite.com/book-review/bump-and-the-family-tree where you can read reviews and the author's biography, as well as connect with the author directly or through their website and social media pages.
Readers' Favorite LLC 
Media Relations
Louisville, KY 40202 
800-RF-REVIEW 
support@readersfavorite.com
https://readersfavorite.com