Author's New Book Receives A Warm Literary Welcome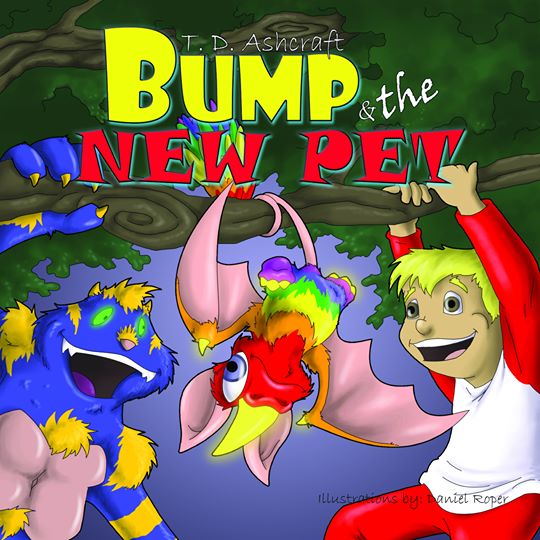 Readers' Favorite announces the review of the Children – Picture Book book "Bump and the New Pet" by T. D. Ashcraft, currently available at http://www.amazon.com/gp/product/0997042079.
Readers' Favorite is one of the largest book review and award contest sites on the Internet. They have earned the respect of renowned publishers like Random House, Simon & Schuster, and Harper Collins, and have received the "Best Websites for Authors" and "Honoring Excellence" awards from the Association of Independent Authors. They are also fully accredited by the BBB (A+ rating), which is a rarity among Book Review and Book Award Contest companies.
"Reviewed By Mamta Madhavan for Readers' Favorite
Meet Baryn, Bump's new pet in Bump and the New Pet by T.D. Ashcraft. Bump found him in a tree, and Baryn is a rainbow rhino-bat. Baryn's horn changes color with his mood. Bump does not shut the windows in time when Baryn starts to fly about. Baryn flies out, his horns a happy yellow while heading for open skies. He dives and slices through the air and banks above a bully's head and gives him a fright. The angry child throws stones at Baryn and his horns turn blue. Bump comes to rescue his friend and together they go back to Monsterland.
I like the way the author has introduced colors to children and associated them with various moods. Not only do children get to learn about colors, they will also learn how to connect colors with their feelings, emotions, and moods. The illustrations are vibrant and bright and they make the scenes vivid and lively, along with making the concept clear to young readers. Bump is adorable and his new pet Baryn is equally as lovable. The book also introduces rhyming words to readers in a fun and interesting way. It is a good story for classroom story-telling sessions and can be used for interactive sessions in classrooms and school libraries. Parents, teachers, and educators can use the story for teaching children about rhyme schemes, colors, and moods in an interesting way. Story books like this are good for children to make learning fun, simple, and easy."
You can learn more about T. D. Ashcraft and "Bump and the New Pet" at https://readersfavorite.com/book-review/bump-and-the-new-pet where you can read reviews and the author's biography, as well as connect with the author directly or through their website and social media pages.
Readers' Favorite LLC
Media Relations
Louisville, KY 40202
800-RF-REVIEW
support@readersfavorite.com
https://readersfavorite.com